RISC-V & FreeRTOS
From spiderboard.org
Prerequisites
Linux Operating System (this guide uses Ubuntu 16.04)
Utility Software (git, make, python)
A SpiderSoM or MX10 with atleast 8K LE, SpiderBase
One of the following:

USB Blaster and Quartus Programmer
Installing VectorBlox ORCA Core and RISC-V Tools
Download the source from https://github.com/VectorBlox/orca using git.

This guide uses the install locations /opt/orca/ and /opt/riscv/, you can substitute them if you wish.

Open a terminal window and run:

$ git clone https://github.com/VectorBlox/orca.git /opt/orca
$ cd /opt/orca/tools/riscv-toolchain/
$ export RISCV_INSTALL="/opt/riscv"
$ ./build-toolchain.sh

Info: This may take a while.

Finally, add the RISC-V tools to your path. Open .profile in your home directory with a text exitor and add the line:

PATH="/opt/riscv/bin:$PATH"

After updating the path variable you may need to logout and login again or run the following command in the terminal:

$ source ~/.profile
Compiling Firmware
Download the RISC-V & FreeRTOS Example and unpack.
Then choose either RISC-V or RISC-V & FreeRTOS and run make.
Open a terminal window and run the commands:

$ wget ftp://ftp.aries-embedded.de/products/MX10/software/demo/20190506_SpiderSoM_quartus_riscv_freertos.zip
$ unzip 20190506_SpiderSoM_quartus_riscv_freertos.zip

For the RISC-V standalone demo:

$ cd riscv_freertos_example/riscv

Or for RISC-V with FreeRTOS:

$ cd riscv_freertos_example/riscv_freertos

$ make

This will create the bootrom.mif (Memory Initialization File) in the subfolder out.
Copy the bootrom.mif to riscv_freertos_example/quartus

$ cp out/bootrom.mif ../quartus

Quartus Prime Project
Open Quartus Prime and load the project under riscv_freertos_example/quartus.

INFO: This Quartus project is specific to the SpiderSoM - for the MX10 the pin assignment has to be changed.

Open Assignments -> Settings -> IP Settings -> IP Catalog Search Locations and add the search path to ORCA.

If ORCA was installed under /opt/orca/ then type in as search path /opt/orca/**/* and click on the Add button.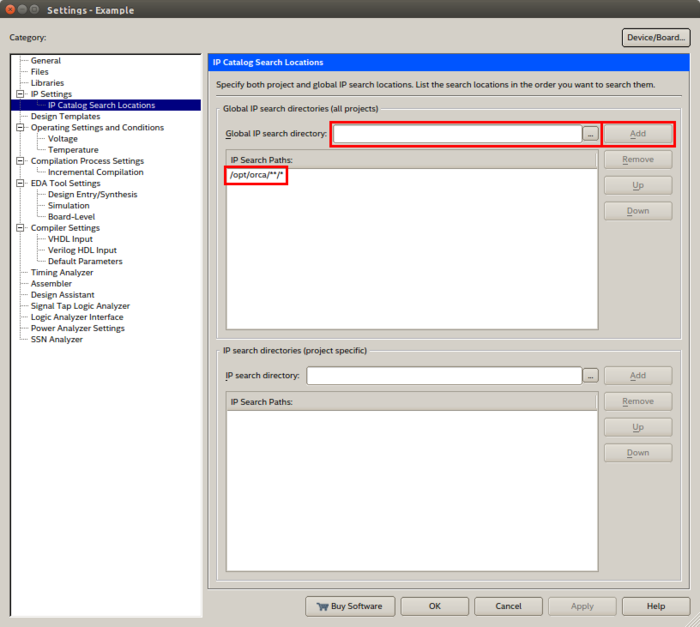 (Optional) Launch Qsys Platform Designer and open qsys.qsys

(Optional) Under System Contents, double-click onchip_memory2_0 and under memory initialization provide your bootrom.mif file. Per default the bootrom.mif in the quartus folder will be used.
(Optional) Save and Generate the Qsys system.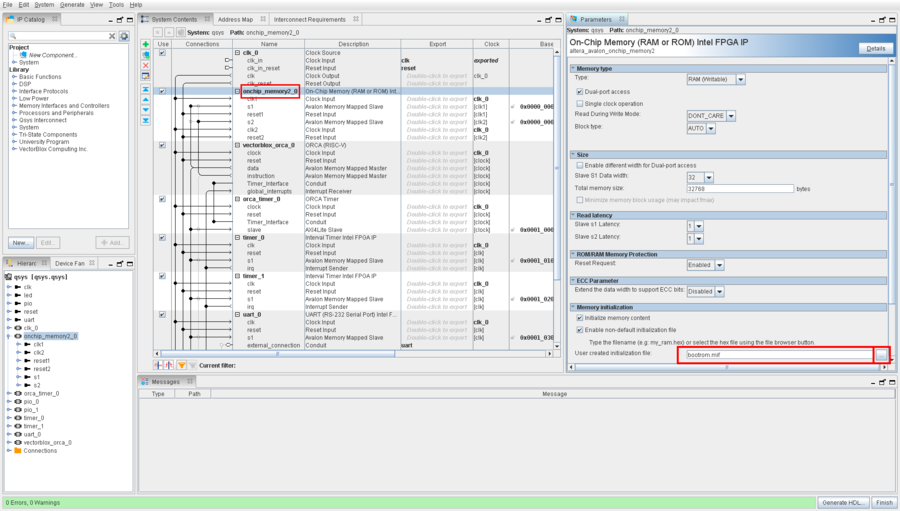 After programming:
If the red LED on the module starts blinking once per second, the FPGA was programmed successfully.
If the green LED on the module starts blinking once every two seconds, the RISC-V Core and its firmware is working.
PMod J2 will output a binary counter.
You can use the UART of the FPGA by using standard tools such as picocom:

$ sudo picocom -b 115200 /dev/ttyACM0

Every character written is looped back and should be displayed on the terminal.
Downloads