Spiderboard SoM
From spiderboard.org
About SpiderSoM
The SpiderSoM is a programmable, non-volatile solution based on Intel® MAX®10 FPGA, which enables it to deliver full-featured FPGA capabilities: support for various soft-core CPUs, video-processing algorithms, etc. The SpiderSoM promotes the free and open design concept: all resources, like i.e. design files, gerber, source code, etc. are available under certain open licenses. The SpiderSoM is available as a low cost and extremely flexible platform which enables user to setup a running system according to the required specification in a very short time.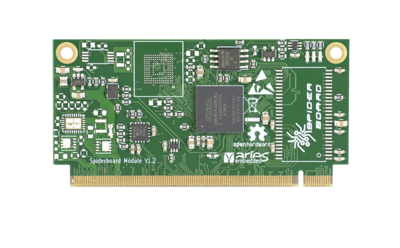 This module can be considered as a cost-optimized alternative to the MX10 module.
Hardware
Featureset
MAX 10 FPGA in F256 package
Module supports wide range of the devices: from 10M04DC to 10M50DA
Optional 4 MByte SPI NOR
Optional 4 GByte e.MMC
Optional 128/256/512MByte DDR3 DRAM (for 10M 16/25/40/50 FPGAs)
Programmable clock generator and PLL, with optional external reference input
178 FPGA GPIO pins, including 13 LVDS transmitters and 54 receivers
RTC with battery backup
Programmable high-efficient PMIC, FPGA IO voltages are configurable
Optional Li-Ion/Li-Pol charger
Size: 70mm x 35mm
Block Diagram
Software
MX10 and SpiderSoM modules provide a USB device interface implemented with a Microchip PIC16F1454 microcontroller (MCU).
On the host side Linux is supported as Operating System, currently Ubuntu 16.04 LTS is marked as a reference base.
On the SoM side the MCU is connected to three interfaces:
UART - Accessible as standard serial device ( /dev/ttyACMx ).
Connected to the FPGA.
I2C - Accessible as standard i2c device ( /dev/i2c-x ). Requires driver.
Connected to module PMIC, charge controller, RTC and FPGA.
Currently Windows is not fully supported. One can use the serial interface by manually installing the USB Serial driver.
Open device manager and select "Other devices" > "Unknown Device". Open its properties and verify that under the details tab the property "Device install path" reads "USB\VID_04D8&PID_EFD0&MI_02\..." Then in the general tab, select "Update driver". Here select "Browse my computer..." and "Let me pick from a list...". Select "Ports (COM & LPT)" then select manufacturer "Microsoft" and model "USB Serial Device". A new COMx device will then be created which can be used with serial tools.
Alternative way is to use Zadig (https://zadig.akeo.ie/). With this tool you can overwrite the Composite-Device-driver with a USB Serial driver. Make sure that in the Options tab "List All devices" is checked and "Ignore Hubs or Composite Parents" is unchecked. Then select "MX10/Spider MCU (Composite Parent)" and USB Serial (CDC) and click "Replace Driver".
Resources
References
Examples
Downloads
The following components are available for download:
License
The SpiderSoM is an Open Hardware. All design files are available under CERN_OHL_V1.2